RetroRaw
Retro raw rocks! It's the frieskiest and rawest vintage porn you can find: all the fucking of past, oral sex, anal sex, interracial, lesbian and more of retro sex, you name it, the have it on video and smut pictures! New hit from the guys who are experts in vintage and retro sex, the fresh site with good old time content.
Rodox Retro Style
You just can't miss this site! See all the smut of 70ths and 80ths: lesbians, group sex, schoolgirls, golden rains, oral sex, masturbation - all things were possible and we're lucky to be able to see it in new century. Old fashion, free mind people and sex that never stops and brings ocean of pleasure - that's the true spirit of good old days.
AKA: Scarlett Kennedy, Susan Shields, Susan Nero
Categories: Female, 70s, 80s, 90s
---
Bio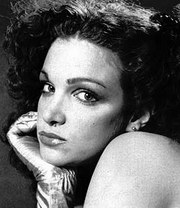 Years Active
: 1978-1996
Born and raised in Boston, Sue Nero was working as an exotic dancer in 1978 when she decided to move to the San Francisco Bay Area. It was there that a boyfriend suggested that she try her hand at porno work. Sue Nero quickly became a highly sought after supporting player who lent her enormous talents to quite a few erotic shorts and quickie loops in the late 70's. She preferred working with women on camera, even though off-screen she was a confirmed heterosexual.
Sue Nero was one of the first truly down-and-dirty sex performers, engaging in interracial, anal, group, and lesbian sex with an ardor that was truly ahead of her time. She worked off and on in the industry for the next ten years, alternating her shooting schedule with her busy strip career. By 1988, Sue decided to devote herself full-time to stripping and left the porno biz. Sue Nero left behind a catalog full of her enchanting performances. She set the tone for the big-boob wave of the 1980's, but never quite attained the stardom that seemed likely for her when she started." - suenero.com
---
Links
Info about Sue Nero and list of her films
Site dedicated to Sue Nero
10 photos of Sue Nero