RetroRaw
Retro raw rocks! It's the frieskiest and rawest vintage porn you can find: all the fucking of past, oral sex, anal sex, interracial, lesbian and more of retro sex, you name it, the have it on video and smut pictures! New hit from the guys who are experts in vintage and retro sex, the fresh site with good old time content.
Rodox Retro Style
You just can't miss this site! See all the smut of 70ths and 80ths: lesbians, group sex, schoolgirls, golden rains, oral sex, masturbation - all things were possible and we're lucky to be able to see it in new century. Old fashion, free mind people and sex that never stops and brings ocean of pleasure - that's the true spirit of good old days.
AKA: Holly Carson, Star Weatherly, Kimberly Cameron
---
Categories
:
Female
,
80s
---
Bio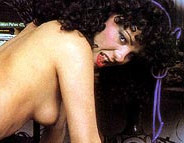 "Porn Star Kimberly Carson was one of the best-loved porn starlets of the 80s, a slim and trim young beauty who could always be spotted by her huge mane of kinky black hair. Kimberly Carson sported one of the tightest figures in porn, a small-breasted vision of sensual delights that found its way into over 130 features during her carnal career. Her down-to-earth, friendly demeanor always came through in her flicks, helping solidify her status as a fan fave.
Kimberly Carson first came to Hollywood in the late 70s with dreams of making it big in mainstream films. Under the name Kimberly Cameron, she modeled and landed a couple of bit parts, notably as a disco gal in a quick scene in Steve Martin's 'The Jerk.' Small parts in TV shows like 'BJ and the Bear' and 'Eight is Enough' followed. Her biggest pre-porn hit was the 1979 sorority sex farce 'H.O.T.S.,' a bounce-and-jiggle fest that seemed to be in constant heavy rotation on Cinemax during the 80s.
By 1982, Kimberly Carson had given up on her hopes of mainstream stardom and turned her eyes to porn. She leapt in with both feet, quickly becoming one of the most prolific and popular women on the scene. She starred in some of the classics of 80s hardcore, including the original 'New Wave Hookers 1.' There, Kimberly Carson romped with Peter North and Brooke Fields in a ravenous threeway tryst." - excaliburfilms.com