RetroRaw
Retro raw rocks! It's the frieskiest and rawest vintage porn you can find: all the fucking of past, oral sex, anal sex, interracial, lesbian and more of retro sex, you name it, the have it on video and smut pictures! New hit from the guys who are experts in vintage and retro sex, the fresh site with good old time content.
Rodox Retro Style
You just can't miss this site! See all the smut of 70ths and 80ths: lesbians, group sex, schoolgirls, golden rains, oral sex, masturbation - all things were possible and we're lucky to be able to see it in new century. Old fashion, free mind people and sex that never stops and brings ocean of pleasure - that's the true spirit of good old days.
AKA: Alexis Love, Joyce Gibson
---
Categories
:
Female
,
70s
,
80s
,
90s
---
Bio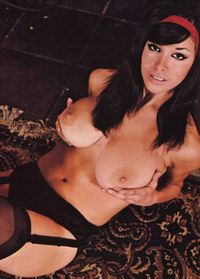 Joyce Gibson's career lasted almost 30 years (interrupted by two retirements). She was born on March 10th, 1950. Her modelling debut occurred when she was just 18, in the March 1969 issue of Modern Man; and many magazine layouts followed over the next five years; after which time, she retired.
Joyce's first retirement (mid-1970s) ended with a single layout in the June 1979 issue of OUI; she was a sensation, all over again. And her previously lean frame had developed - her breasts were larger - she was now a voluptuous woman. But then, Joyce retired again, disappearing for almost 14 years.
She re-emerged in 1993, as Alexis Love, primarily in Score and Voluptuous. She had taken to wearing a blonde wig as Alexis, and her figure had 'blossomed' to remarkable proportions. She was now in her middle forties, and attributed her mammoth growth to a "hormone shift", but many people assumed she had gone down the implant road. She was steadfast however, in asserting that they were real, even going so far as to certify them as such by the UCLA Medical Center.
---
Filmography
Her films include: Street of a Thousand Pleasures (1970), Wham Bam, Thank You Spaceman (1973), Chesty Anderson, USN (1975) and The Baltimore Bullet (1980).
---
Links
http://www.bygonemedia.com/Profiles/Joyce_Mandel.htm
http://us.imdb.com/name/nm0541657/
http://www.bigbreastarchive.com/alphabetical/joycegibson/joycegibson.html