RetroRaw
Retro raw rocks! It's the frieskiest and rawest vintage porn you can find: all the fucking of past, oral sex, anal sex, interracial, lesbian and more of retro sex, you name it, the have it on video and smut pictures! New hit from the guys who are experts in vintage and retro sex, the fresh site with good old time content.
Rodox Retro Style
You just can't miss this site! See all the smut of 70ths and 80ths: lesbians, group sex, schoolgirls, golden rains, oral sex, masturbation - all things were possible and we're lucky to be able to see it in new century. Old fashion, free mind people and sex that never stops and brings ocean of pleasure - that's the true spirit of good old days.
AKA: James Kleeman, Jamie Grill, James Rugman, Buster Hymen, Jaimi Gillis, Ronny Morgan, James Gillis, Jamie Kantor, Barry Gillis
---
Categories
:
Male
,
70s
,
80s
,
90s
,
2000s
---
Bio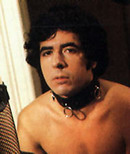 Date Of Birth
: April 20, 1943
Birthday
: April 20, 1943
Birthplace
: New York, NY
Years Active as Performer
: 1971-2004
Gillis began his blue screen career in the early 1970's and is still involved in the industry to this day. In the 1980's, as the adult industry switched from film to video, Jamie stepped into the director's chair while maintaining his performing duties.
---
Links
Biography and list of films
Official site
Wikipedia:Jamie Gillis
Interview with him