RetroRaw
Retro raw rocks! It's the frieskiest and rawest vintage porn you can find: all the fucking of past, oral sex, anal sex, interracial, lesbian and more of retro sex, you name it, the have it on video and smut pictures! New hit from the guys who are experts in vintage and retro sex, the fresh site with good old time content.
Rodox Retro Style
You just can't miss this site! See all the smut of 70ths and 80ths: lesbians, group sex, schoolgirls, golden rains, oral sex, masturbation - all things were possible and we're lucky to be able to see it in new century. Old fashion, free mind people and sex that never stops and brings ocean of pleasure - that's the true spirit of good old days.
AKA: Helga
---
Categories
:
Female
,
80s
,
90s
---
Bio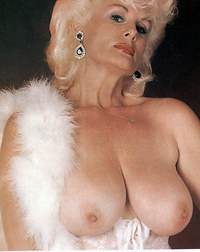 This zaftig beauty appeared in over thirty hardcore features during the 1980's, bringing a mature sexuality and a red-hot approach to on-screen sexing to each and every role. Porn Star Helga Sven was a tremendously busty blonde bombshell with a thick-set body and a wonderfully curvy rear end. Think of what a sexy version of a Gabor sister might be like and you're half-way there. Helga Sven's erotic charms were unmistakable, and her take-charge sexing provided lots of sexy jolts during her carnal career.
Helga Sven's mature age and lush physicality made her the perfect choice for roles that called for an authority figure. Thus, most every role Helga Sven played was either a madam, a mother, or a business owner, and she played each to the hilt. Just check out the way she shines as the lusty mom in the 1984 incest epic 'Beyond Taboo' for a glimpse of Helga Sven at her commanding best. Helga Sven's prowess at playing madams can be seen first-hand in flicks like 'Thrill Street Blues,' where she plays a brothel owner who won't take no for an answer.
What ranks as Helga Sven's sexiest scene, though, can be found in 1985's 'The Idol.' She takes on a young Marc Wallice in a steamy and sensual workout that leaves no sexual stone unturned. Helga Sven left the business in early 1990, after almost six very erotic years in the industry.
---
Links
http://excaliburfilms.com/pornlist/starpgs/Helga_Sven.htm
http://www.rame.net/library/stars/helga.html
- great filmography
Helga SVEN at Yurmag.com