RetroRaw
Retro raw rocks! It's the frieskiest and rawest vintage porn you can find: all the fucking of past, oral sex, anal sex, interracial, lesbian and more of retro sex, you name it, the have it on video and smut pictures! New hit from the guys who are experts in vintage and retro sex, the fresh site with good old time content.
Rodox Retro Style
You just can't miss this site! See all the smut of 70ths and 80ths: lesbians, group sex, schoolgirls, golden rains, oral sex, masturbation - all things were possible and we're lucky to be able to see it in new century. Old fashion, free mind people and sex that never stops and brings ocean of pleasure - that's the true spirit of good old days.
---
Bio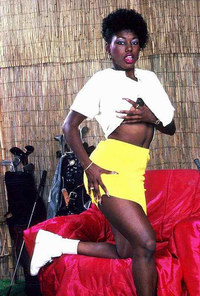 "A luscious, full-bodied vision of creamy chocolate lust, Porn Star Ebony Ayes was one of the most popular black starlets of the late 1980's and early 1990's. Ebony Ayes' a real stunner, from her pretty, wide-eyed face to her enormous, amply-nippled boobs to her ripe, jiggly butt. Ebony Ayes' exuberant personality comes through in every scene she appears in, and her infectious laugh can lighten the mood of the most hard-boiled segments. She wields a powerful, natural sensuality that can bring the animal out of anyone she works with. Perhaps her most delectable feature is her large, luscious mouth, with its naturally pouty quality and thick lips ready and willing to wrap themselves around her partners.
Ebony Ayes was a veteran of numerous nude photo spreads when she made the plunge into full-bore hardcore in 1985. Her sparkling good humor, busty good looks, and raw sexual heat immediately established here as one of the top African-American starlets of the day. Ebony Ayes' lusty appetite for men is quite evident, but she often gets most worked up when paired with other starlets . A truly underrated sexual performer, Ebony Ayes lit up any screen she sexed on, and her enthusiasm and winning personality were always in arousing evidence. Ebony Ayes' been called a 'sex goddess supreme,' and one look at her work will have you nodding in amazed agreement." - excaliburfilms.com
---
Links
Ebony AYES at Yurmag.com