RetroRaw
Retro raw rocks! It's the frieskiest and rawest vintage porn you can find: all the fucking of past, oral sex, anal sex, interracial, lesbian and more of retro sex, you name it, the have it on video and smut pictures! New hit from the guys who are experts in vintage and retro sex, the fresh site with good old time content.
Rodox Retro Style
You just can't miss this site! See all the smut of 70ths and 80ths: lesbians, group sex, schoolgirls, golden rains, oral sex, masturbation - all things were possible and we're lucky to be able to see it in new century. Old fashion, free mind people and sex that never stops and brings ocean of pleasure - that's the true spirit of good old days.
 AKA: Busty Russell, Lillian Wilczkowsky

---
Categories
:
Female
,
60s
,
70s
,
80s
,
90s
---
Bio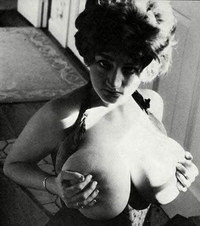 Chesty Morgan, a surprisingly attractive woman, will be for many the epitome of the big-boob pinup queen.
Born around 1928 in Poland, Lillian Wilczkowsky moved to the U.S. in 1958 via Israel. Her billing title boasted that she had "The World's Largest Naturally Occurring Bosom". At one point, she had a poster entitled "The Spirit of 76 (Inches)" in the early 1970's and then proceeded to star in two camp CLASSICS: "Double Agent 73" (1974) and "Deadly Weapons" (1973).
She was immensely popular on the striptease circuit in the 60's. However, at some point, Chesty came to the attention of filmmaker extraordinaire, Doris Wishman. And in 1973, Doris cast Chesty (aka Zsa Zsa) in the role of Krystal in the film Deadly Weapons. This was followed in 1974 with Double Agent 73.
Chesty Morgan worked with Fellini, and appeared in John Waters film
In 1976 Chesty was asked to appear in the Federico Fellini film, Casanova.
Chesty's film career began again in the 1990's. In 1994, filmmaker John Waters used footage of Chesty from the film Double Agent 73 in his 1994 film Serial Mom. Additionally, Waters wrote a role for Chesty in his (never made) sequel to Pink Flamingos (Flamingos Forever).
---
Links
http://www.bigbreastarchive.com/alphabetical/bustyrussell/bustyrussell.html
http://www.bigbreastarchive.com/alphabetical/chestymorgan/chestymorgan.html