RetroRaw
Retro raw rocks! It's the frieskiest and rawest vintage porn you can find: all the fucking of past, oral sex, anal sex, interracial, lesbian and more of retro sex, you name it, the have it on video and smut pictures! New hit from the guys who are experts in vintage and retro sex, the fresh site with good old time content.
Rodox Retro Style
You just can't miss this site! See all the smut of 70ths and 80ths: lesbians, group sex, schoolgirls, golden rains, oral sex, masturbation - all things were possible and we're lucky to be able to see it in new century. Old fashion, free mind people and sex that never stops and brings ocean of pleasure - that's the true spirit of good old days.
AKA: Candie Evans, Candi Evans, Candi Evers, DD Vine, Jean Poremba.
---
Categories
:
Female
,
80s
---
Bio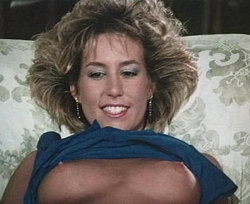 Between 1985 and 1988, sweet Porn Star Candy Evans is one of the most sought-after blonde bombshells in hardcore. She was a stunningly pretty young woman with a cover-girl face and the massively enhanced front end that has never hurt a porno career. Other than her inflated up-front assets, Candy Evans's was a trim and lithe little figure with smooth skin and a set of killer legs that just didn't quit. She made her carnal debut in 1985's 'Crystal Balls' and was soon one of the hardest-working women in porn.
Candy Evans's sweet and vivacious personality came shining through in each of her scenes, as she displayed just enough erotic curiosity to drive her partners completely out of their heads. She appeared in lots of loops for the 'Swedish Erotica' series, turning in lots of steamy work despite her low-budget surroundings. Some of Candy Evans's best work can be foundA in 1987's 'Amazing Tails #01,' where she works up a sweat with Scott Irish in a sizzling sequence. Another top-notch bed-burner is in 1986's 'Slippery When Wet.' Candy Evans pulls out all the stops in a deliriously debauched threeway romp with Marc Wallice and Tom Byron that's the erotic high point of the film. Candy Evans left the business in 1988 after appearing in over 80 features. She is currently married and living in Orlando, Florida.
---
Links
http://www.candyevans.com/
Candie EVANS at Yurmag.com