RetroRaw
Retro raw rocks! It's the frieskiest and rawest vintage porn you can find: all the fucking of past, oral sex, anal sex, interracial, lesbian and more of retro sex, you name it, the have it on video and smut pictures! New hit from the guys who are experts in vintage and retro sex, the fresh site with good old time content.
Rodox Retro Style
You just can't miss this site! See all the smut of 70ths and 80ths: lesbians, group sex, schoolgirls, golden rains, oral sex, masturbation - all things were possible and we're lucky to be able to see it in new century. Old fashion, free mind people and sex that never stops and brings ocean of pleasure - that's the true spirit of good old days.
Pornstar Classics
These stunning busty ladies and hung fellows are porn legends of 80ths. Never thought you can see them again? With this site you can watch movies with hottest classic action! Hardcore fucking and sucking video with Ginger Lynn, Ron Jeremy, Christy Canyon and John Holmes starring are waiting to be downloaded.
SkinVideo
Amazing service with so many photo of retro and vintage pornstars and videos with them starring! You can watch them all day long. Lots of people post photos and videos via their post clients, and you can see them all in case you have enough time.
---
Bio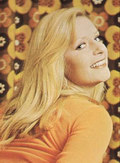 The adorable, misunderstood Mary Millington was the girl-next-door who became the undisputed sex superstar of the Seventies. Born ordinary Mary Quilter in Middlesex to unmarried parents and raised just outside Dorking in Surrey she married a local lad, Robert Maxted in 1964. The couple were together for fifteen years and surprisingly it was whilst she was still married that Mary accidentally embarked on a career in the glamour and porn industry. A chance meeting with legendary pornographer John Lindsay in a Kensington coffee shop paved the way to illegally-made sex films and untold riches. In 1970 Lindsay gave Mary the title role in Miss Bohrloch, the first of a dozen or so hard-core films she made over a three-year period. Continuing to model for top-shelf magazines and working as a high class prostitute throughout the early 1970s, Mary's first big screen role came with a tiny cameo in Eskimo Nell in 1974. Other films rapidly followed but it was her love affair with porn publisher David Sullivan which finally broke her into the big time.
Sullivan persuaded her to change her name to Millington, splashed her throughout his magazine titles including Playbirds and Whitehouse and got her working behind the counter of one of his sex shops. She became a sexual phenomenon virtually overnight and the fan mail flooded in. However, it was her role as a saucy nurse in David Sullivan's 1977 movie Come Play with Me which really made Mary a huge star. Despite appearing only briefly on screen, it was canny marketing within the pages of Sullivan's publications that sold the movie throughout Britain. Within the space of just two years Mary became the most profitable name at the British box office with a string of record-breaking X-rated sex movies like The Playbirds (1978) and Queen of the Blues (1979).
---
Links
http://www.geocities.com/mary_millington/